Do you have the
right
PEO

for you?

We help strategic thinkers find the best PEO for their company
and help pave the way for future years of growth and success.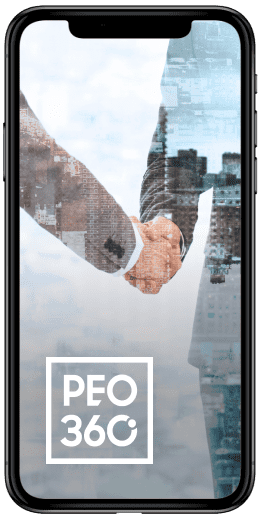 98% of PEO users
Would recommend using a PEO
to their colleagues
But customers often find the process of choosing the right fit PEO to be complex and opaque, leading
to overpaying for services. We help clients choose their first PEO or get better terms with their current
PEO. Did you know you can negotiate with your current PEO at any time to get better terms?
Better Benefits
A great PEO can help lower your benefits cost, which will save you money and your employees money. This can mean better health insurance as well as other benefits like 401k, vision, dental, and other benefits.
HR Administration & Support
Leveraging a PEO team can allow your Executive Team or existing HR team to delegate hiring/firing, benefits administration, and lots of other tasks.
Risk and Compliance
The minute you hire an employee, your risk exposure has increased. The average cost of employment related litigation is over $160k and 25% of lawsuits are more than $500k.
Payroll
Implement payroll in a timely, effective, and secure manner for any team size without adding staff.
Technology
Leverage the power of a human resource information system (HRIS) – technology built for your Executive Team and Employees to access and utilize their benefits
Using a PEO will decrease employee turnover by 10-14%
Small-to-medium businesses using a PEO had double the annual median revenue growth compared to companies not using a PEO
68% of small-to-medium business that utilize a PEO are more successful than their counterparts
It's no surprise that most people using a PEO recommend it — there's a lot of
value on the table. But PEOs are not all equal and choosing the right one will
affect how well they serve in these five pillars of value and how much it costs.
how does it work
Our Process
Discovery &
Request for Proposals
Guided expertise to source the right PEOs for you
Analysis & Recommendations
Full financial and benefits analyses for multiple high quality PEOs
Best Choice &
Preferred Pricing
We negotiate preferred pricing & pass the savings to you
Everything,
start to finish
,
comes at zero cost to you.
Regardless of where you're at in your PEO journey, we're confident we can
help. With a short call, we can start working for you at no cost.
Why use a broker?
Get more options from great partners to save money.
In a case study of one of our past clients, our process led to over $100k in savings every year.
Our process yielded four quotes from top providers that matched our clients needs. We negotiated with each PEO and
reduced costs where possible. As you can see, even approaching with the same directive of needs, the costs vary wildly.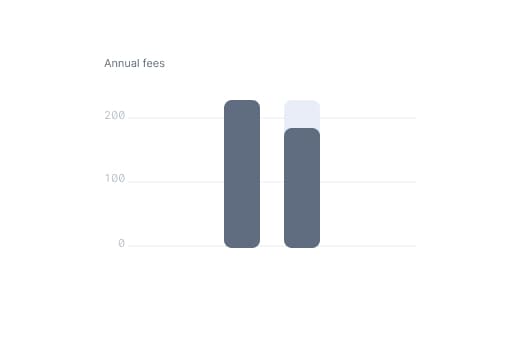 2
quotes
If our client took this process on their own, they would've only had time to finalize two quotes.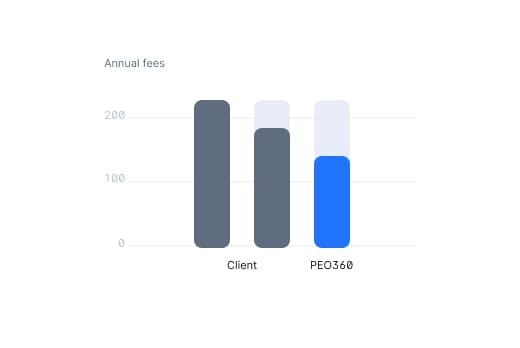 50k
savings
With our process, they at minimum got an additional quote and saved
$50k.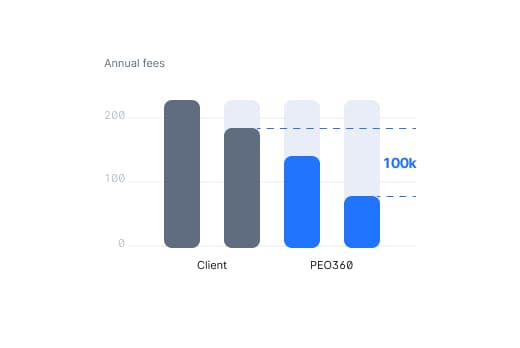 100k
savings
But our true value shows we get the best service for price. In this case, it saved our client
$100k.
FAQ
How do you make money?
We operate similar to an insurance broker. We take payment from the PEO that is selected. This fee comes out of the normal commission a sales representative receives.
To eliminate any appearance of conflict of interest, we set a fixed amount for our compensation regardless of PEO chosen. This means no PEO is a better choice for us – we're focused solely on what PEO is the best fit for you.
Why should I go with you instead of doing this myself?
Going through us leverages economies of scale. We get preferred pricing through our PEO partners. It can actually save you thousands yearly to use PEO360 instead of going directly to a PEO sale representative.
In addition to cost savings, you get significant time savings. From the start, we'll do all the work researching multiple PEOs, multiple quotes, and negotiating contract choices. Get more choices, save more money, and keep your time.
Why do I need this?
Benefits administration is often the 2nd or 3rd most expensive line item in a company's budget, but often neglected in improving due to its complexity. With us, you get a zero-cost, zero-risk resource to explore new options and potentially save tens of thousands a year.
I've never heard of PEO Broker
Understandable! We're excited to be the first PEO broker you know. Check out our How We Help page and call us any time. We would be happy to expand on the details featured here and how engaging with us could positively impact your company.
I don't want to spend the time to look for a new PEO
Getting started is faster than you might think. With 30 minutes of executive time, we can start our process. We'll work on your behalf, talking to PEOs, and only require your time again after all the options have been consolidated and ready for your review.
I'm already working with a PEO and my contract isn't up yet
PEO agreements are technically month-to-month which means you can leave or renegotiate terms at any time with 30 days notice. Most companies know this, but don't know that it can be used for their advantage.
How will using PEO360 affect my current benefits?
Using a PEO can dramatically reduce your cost of benefits and provide better insurance than you can get on your own. You will also have access to more benefits that can be seamlessly offered because the PEO does all the administration.
If you decide to use the insurance offered by a PEO, your employees that have used their insurance will not be penalized towards their deductible. The PEO and Insurance Carrier will honor any deductible the employees have paid and will do a deductible carryover. This means they apply any previous deductible towards the new policy.